2018 Annual Meeting & Election

The Ashtabula Soil and Water Conservation District Board of Supervisors held the District's Annual Meeting and Election on Monday, September 17, 2018 in conjunction with the Farm Bureau Annual Meeting at the Spring Hill Winery in Harpersfield Twp.
During the meeting, an election was held for two positions on the Board of Supervisors. The candidates were incumbent Wendell Obernyer, as well as first-time candidate Al Fazenbaker.
Wendell Obernyer was re-elected to 3 year terms beginning January 1, 2019.


Also, during the meeting, we presented an award to the following:

2018 Cooperators of the Year: Keith Waris


Keith Waris of Wayne Township has been named the 2018 Ashtabula SWCD Cooperator of the Year. Today, Keith farms approximately 750 acres of ground in the southeast corner of Ashtabula and northern Trumbull County with 550 of those acres owned and 200 rented. Today he is a grain operation that also raises PBR rodeo stock, but that hasn't always been the case.
"My grandfather bought this farm in the early 1930's". When I graduated from High School in 1965 this farm was about 103 acres, milked 80 cows in a stanchion barn. We grew grain for the cows and had about 50% of the rotation in hay. We milked by pipeline and had to haul manure two times a day" said Keith.
In the early day's drainage and erosion concerns were not an issue because the owned ground was well drained gravel soils. Keith said, "Our crop rotation that included hay kept our erosion issues under control and we didn't worry much about drainage issues".
As with generational farms, his grandfather's farm became his dad's farm which ultimately became Keith's farm. Starting in 1967 there was a slow increase in cow numbers from the 80 head up to about 160 cow heard in the early 2000's. Manure management was done by a small manure storage pit and the ability to spread on the gravel ground in the traditional time of spring just ahead of the planting.
"I started to realize the need for tile as I starting purchasing more ground that wasn't well-drained. I either had to install systematic tile or fix the tile that was already installed. 45% of the ground I farm is tiled. What is tiled is what needed to be tiled." I surprisingly have to install tile in some of the gravel ground because of the height of the water table."
As with most farms in time, Keith's tillage methods have changed which has aided in crop residue on the surface and controlling sheet and rill erosion in the fields. "Like everyone, we moldboard plowed and disked. Today, I don't have a chopper head on the combine and still have residue especially after corn. I use minimum tillage in the form of a turbo tiller and a sunflower finisher. The turbo till does go about 6" into the ground but not rolling over the soil like the plow." When Keith finds areas in his fields that are eroding, especially immediately downstream from a road culvert, he utilizes grassed waterways to control erosion.
When asked about today's water quality issues in Lake Erie and or the Gulf of Mexico, Keith described the following: "I have been working with an agronomist for many years. I have completely eliminated commercial fertilizer except for starter fertilizer at planting and anhydrous. I utilize chicken manure exclusively. It has not only enabled me to eliminate commercial fertilizer but has allowed me to cut back on the amount of lime needed due to the lime in the chicken manure. I use a side sling manure spreader and it works out on average of 2 ton per acre of chicken manure.
In the last 10 years, Keith has re-established animals on the home farm. He raises about 20 cows and 14-15 calves for rodeo stock. He utilizes pasture when the animals can be on a growing green pasture and a concrete lot in bad weather. He stores their manure during the winter months and then spreads in the spring just prior to the growing season.
In the mid 2000's – 2015, Keith worked with Ashtabula SWCD and the Western Reserve Land Conservancy to protect approximately 503 acres with conservation and agricultural easements. By placing the easements on his land, Keith has committed to the ultimate conservation plan, by permanently protecting his property. These conservation easements allow for limited management of the property and no development. The Agricultural easements allow for limited management, active agriculture with expansion of Ag infrastructure and no development. When asked why he would place such restrictions on his own property, "I didn't want to see the land broken up with patchy development. I did it to preserve my open space and help with water quality".
When Keith describes conservation/ag easements helping with water quality, it was logical to ask about the changes that he would face in his farming operation if he had to live by the rules no in place in Western Ohio. "I am fortunate that I have well drained ground and don't have to worry about winter spreading of manure or worry about spreading fertilizer in saturated conditions. But if I didn't have my current conditions it would be very tough to animal farm and or grain farm under those restrictions in Ohio's weather."
Keith has been at this game for a long time. Seen many changes which he doesn't always agree with, but when asked if he would do it all over again. He smiles and quickly says, yes!
When you see Keith Waris, please congratulate him on a job well done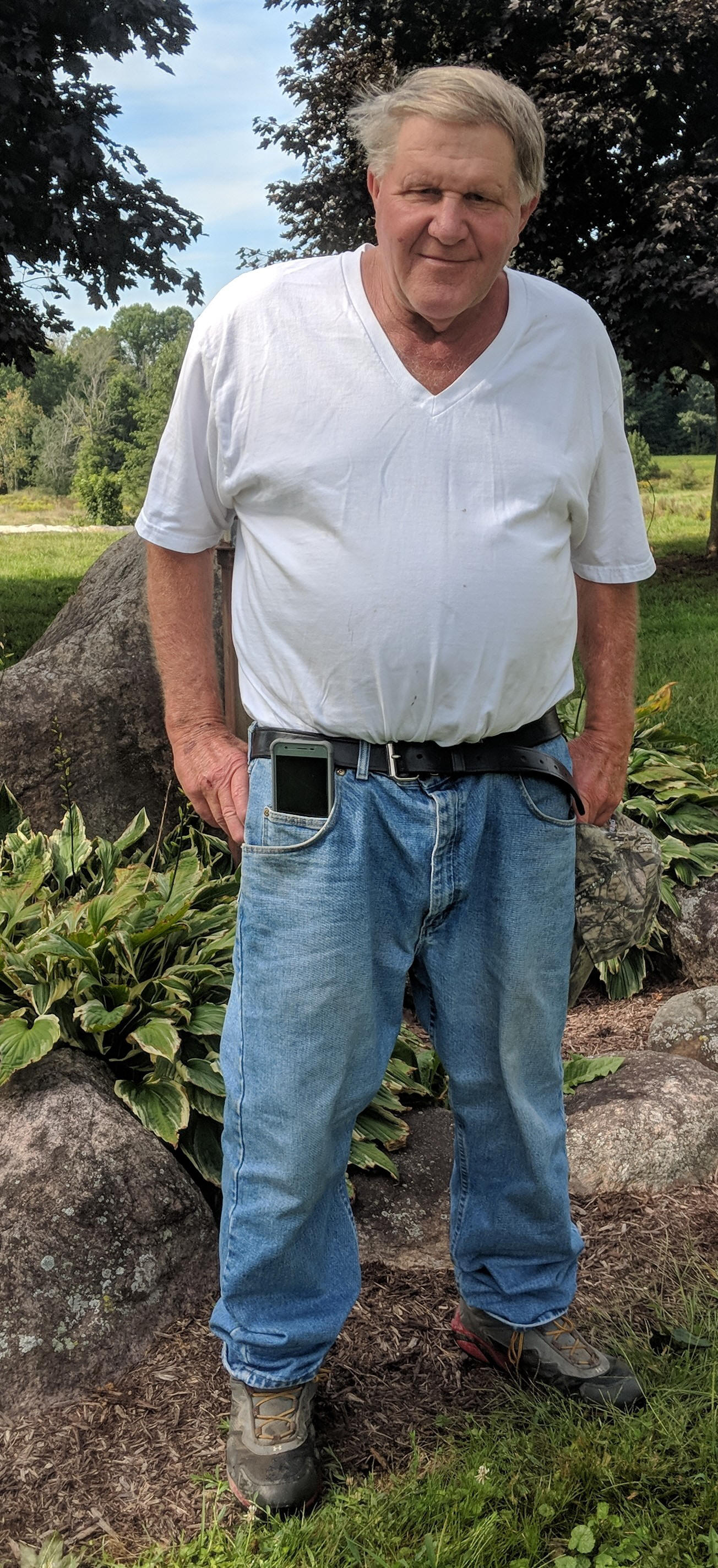 Back to Election and Banquet Page