2019 Annual Meeting & Election

The Ashtabula Soil and Water Conservation District Board of Supervisors held the District's Annual Meeting and Election on Monday, September 16, 2019 in conjunction with the Farm Bureau Annual Meeting at the Spring Hill Winery in Harpersfield Twp.
During the meeting, an election was held for two positions on the Board of Supervisors. The candidates were incumbents Dan Decker and Dr. Paul Mechling, as well as Gary Rutter.
Both Dan Decker and Dr. Paul Mechling were re-elected to 3 year terms beginning January 1, 2020.


Also, during the meeting, we presented an award to the following:


2019 Cooperators of the Year: Jack and Arlene Barthels
This conservation story starts in 1976 on a ski trail near Ohio State University's ATI Campus in Wooster. That's where Jack Barthels met Arlene Klebowski. They shared many common interests, both students at ATI, both interested in
conservation, and both had a deep love for snow.
That's all it took. They both transferred from ATI to the University of Wisconsin and graduated in 1979, Arlene with a
degree in animal science and Jack with agriculture. In January 1980, they were married. They both held various jobs in those early years; Arlene even spent time as a pachyderm keeper at the Cleveland Zoo. But it was while raising their three children that Arlene heeded a call to medicine and went back to school to become a physician's assistant. Jack found a
position as a farm loan officer for USDA in 1983. Arlene became an assistant to the physician's group in the emergency room of Aultman Canton Hospital, where she still enjoys employment. Jack retired from USDA in 2017.
Living in Ravenna, Ohio, doesn't exactly fulfill a need for snow. So the couple looked to the snowbelt for a seasonal retreat. They decided to purchase a property on Tote Road in Austinburg Township in 2000. Once upon a time a church camp, this lot had everything outdoor lovers could want – almost 30 wooded acres, over 750 feet of Grand River access, and a cabin built in 1940. A year later, they decided it needed to be protected forever. Grand River Partners, which is now merged into Western Reserve Land Conservancy, and Ashtabula Soil and Water Conservation District agreed with the Barthels and a conservation easement was established. This easement was followed by easements on 35 acres on New Hudson Road and 12 acres on Mill Creek Road. They sold the New Hudson property, but every year Western Reserve and Soil and Water walk the other two properties with Jack.
The Barthels own over 345 acres now in Ashtabula County, and if they are not under local or federal easement, they are under Current Agriculture Use Value (CAUV) and the woods are actively being managed. The Barthels have been working together in the woods since 1977, when they sold firewood in College. They are still going strong planting natives, controlling invasives, and cutting down grapevine. Last year, Arlene's Mother was working in the woods with them at 95 years old!
On a personal mission to rid the County of invasives, you can often find Jack pulling garlic weed, spraying for Japanese knotweed, and cursing at glossy buckthorn. Next year they plan on starting a conservation plan that includes planting 3,000 trees – 2,000 next year and the last 1,000 in 2021. Jack says contracts motivate him to work harder.
Jack does come out of the woods often to attend the quarterly Grand-Ashtabula-Conneaut Watershed meetings, which include citizens and federal, state, and local agencies committed to protecting and enhancing our local scenic rivers. Having property in two of these watersheds, the Barthels are valued allies that pay attention to any stream changes that we should know about.
Jack and Arlene also find time to spend with their three children, two local and one in Hawaii, and their four grandchildren. They never miss the opportunity to take them canoeing or creek exploring, or – when the weather gets just right – playing in the snow.
And so, for a lifetime commitment to conservation and environmental stewardship, The Ashtabula Soil and Water Conservation District would like to honor Jack and Arlene Barthels with our 2019 Cooperator of the Year Award.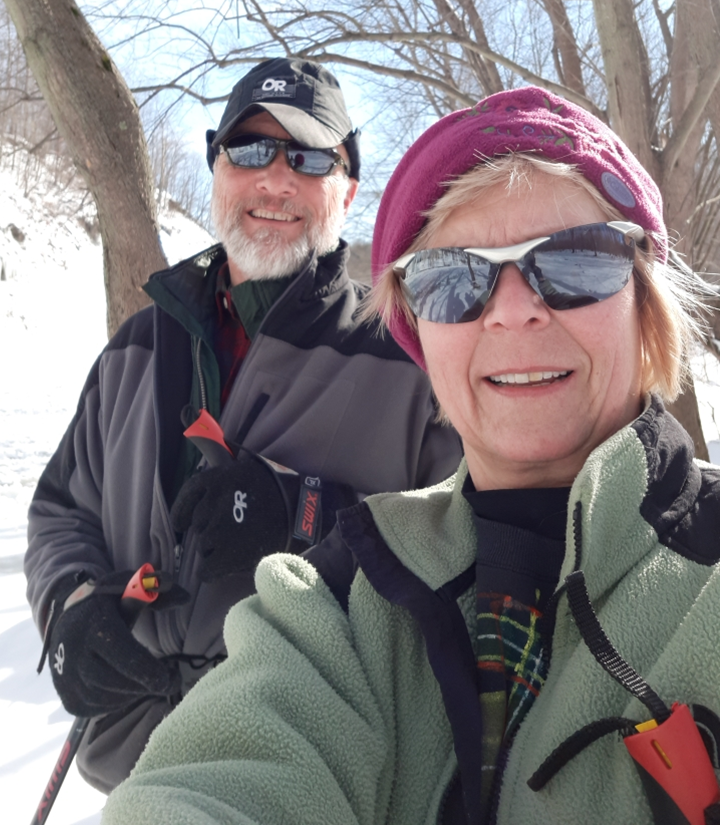 Back to Election and Banquet page